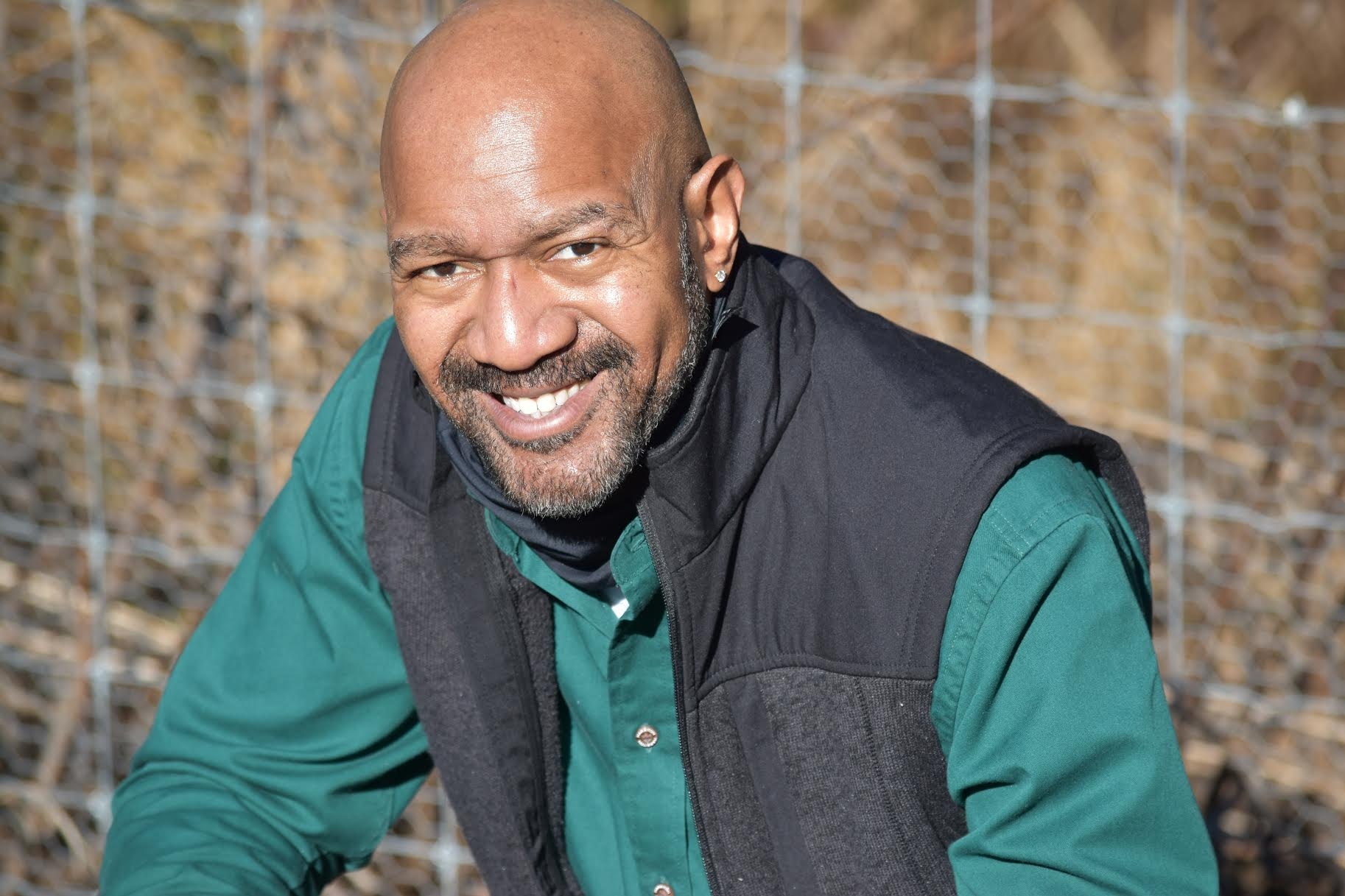 "For me, he says, "Georgia isn't a red state. And it isn't a blue state.
Georgia is a green state, especially at the dinner table.
Meats or veggies, we all eat."
Charlie Monroe
- featured Food Systems Educator
Charlie Monroe, the outgoing president of the American Community Gardening Association (ACGA), reflects on his four-year tenure at the helm, his additional four years on its board, and the high regard he has for the organization.
I love food. I love having conversations with my vegan and vegetarian friends because I'm always going to get us to the word 'pork,' he laughs. "But this isn't all about food, he explains. "This is bigger than the community garden itself. This is about your community. It's about mutual respect at the table, getting people to embrace each other, even those you might disagree with.
A retired University of Georgia Extension agent for Dekalb County, Georgia, and current natural resources manager for Cobb PARKS (Metro Atlanta), Charlie is a native of the state. Recently, with all eyes on Georgia politics, Charlie's soft-spoken commitment to relationship-building across the aisle is a bold—and perhaps prescient—stance.
"For me, he says, "Georgia isn't a red state. And it isn't a blue state. Georgia is a green state, especially at the dinner table. Meats or veggies, we all eat."
Charlie's career has resulted in effective, long-term relationships with state leaders from both parties as well as citizens just getting started in community work through gardening. He takes time to include them all. "I believe diverse leadership and diverse participation leads to a better understanding of the world we live in."
For those Georgians who feel uncomfortable discussing global warming, for example, he offers a conversation about "local warming" instead. Charlie notes that it's easier to help people relate to the phenomena of rising average temperatures they experience in their own summer and winter gardens, rather than wrestle with what they might perceive as political talk. He says he meets people where they are today to get to a place of shared community work down the road. "I identify as a community organizer," he notes. "But this is a marathon, not a sprint."
Growing up, Charlie was a country boy in South Georgia. He is the youngest of seven children in a blended family. He laughs, "Kind of like The Brady Bunch." Charlie was their seventh child, the peacemaker—"that person who quickly learns the benefit of listening."
At age 11, Charlie joined the 4-H Club (Head, Heart, Health, Hands) and has been an advocate for its youth programs ever since. Remembering his college days, his fraternity Kappa Alpha Psi Inc., and volunteering with the Jack R. Wells Boys and Girls Club in Athens, GA, he softly says, I am my brother's keeper." Charlie earned a bachelor of science degree in biology and a master's in agriculture leadership, both from the University of Georgia. He is a science educator, a U.S. Army veteran, a master gardener, and a certified arborist. Frankly, it doesn't get any more Peach State than that.
Nonprofit leadership is a natural fit for Charlie. He and his wife Wylencia started Youth Entrepreneur Services (Y.E.S.) back in 1997, when they were just getting started themselves. Together they organized interview workshops and job fairs for teens, ages 13–15. Employers couldn't just show up; they had to commit to hire. When the teens arrived, they knew exactly how many job opportunities were in that room," he says. Charlie still enjoys working with youth by introducing them to Georgia's fishing and food-growing industries. I can't emphasize enough the value of employment opportunities in agriculture."
Charlie has long understood his role as a relationship builder. He connects people to resources, knowledge, and, most importantly, each other. When groups come to him for guidance to start a community garden—ideally before any ground-breaking occurs—he starts by talking about responsibilities. Who will be the main spokesperson? Who will be the back-up spokesperson? Who will be the note taker? The back-up note taker? It doesn't matter how many individuals are involved, so long as everyone has a role. Also, everyone gets a vote."
Charlie says, Many people don't realize that they can contribute to the health of their own communities by growing food." It's not just about the food: It's the ability to participate collectively that leads to a neighborhood's self-sufficiency."
For decades, Charlie has worked alongside some of Georgia's most influential sustainable food system proponents and gardening educators. He identifies Bobby L. Wilson, president and CEO of Metro Atlanta Urban Farm, as an early mentor. Charlie also once shared office space with Walter Reeves of the long-running WSB radio series, Lawn and Garden Show. Those are big shoes to fill," Charlie notes. He recounts coordinating many successful projects and programs, including a partnership with the USDA to promote 20 superfoods grown in Georgia. Most recently, Georgia Agriculture Commissioner Gary Black attended his Fishing and Farming Friday at Hyde Farm and encouraged youth participants to consider a career in agriculture.
Charlie recalls one of his earliest community garden projects: Henderson Community Garden in DeKalb County (Metro Atlanta). Now, he says, the community garden has become a place where hundreds of community members come to learn, listen, share, and grow.
One thing rings true with Charlie no matter who, no matter what, and no matter when: Community gardening is first and foremost about community."
Author: Kim Hines | Jan 25, 2021
* * *
ACGA has members in every U.S. state as well as in Canada. Visit the website to learn about ACGA's annual conference and regional workshops.
The Journal of Agriculture, Food Systems, and Community Development has published many research articles on community gardens. Search for the term at the JAFSCD website.