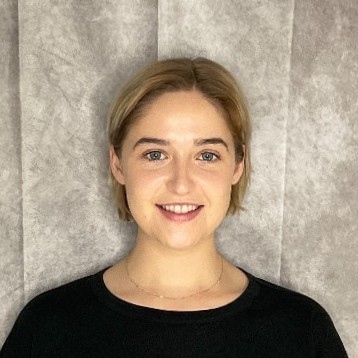 In recognition of her work with NAFSN, Joy Davis received the 2022 Community Work Study Program's Employee of the Year Award from the

David M.

Einhorn

Center for Community Engagement of Cornell University.
Joy Davis
- Featured Food Systems Student Leader
Since her start with NAFSN in summer 2021, Joy has set a new organizational standard for creative innovation, collaboration and partnership building.
All of Joy's projects have been "firsts" for NAFSN. She dares to venture into new territories, eagerly reaches out to new meet new people in the field, and shows curiosity for both the cultural and logistical elements of local and regional food systems development.
Perhaps Joy's most significant contribution to NAFSN is her co-founding and co-producing of a unique webinar series called "Finding Your Future in Food Systems." This initiative acts as an ongoing virtual jobs fair, connecting job creators to emerging professionals. Joy and her co-producer, Nika Colley, featured 22 organizations throughout the U.S. representing a diversity of professional roles, career paths, and work cultures. With an average enrollment of 150 attendees for each episode, Joy helps promote the series to students at more than 60 institutions offering degrees in food systems studies, and to more than 400 aligned student groups.
Joy also created a mapping system to visually display and analyze job openings in food system work throughout the U.S. posted by NAFSN. This project provided insights into the emerging profession, such as locations and types of job opportunities and the extent and variety of our network.
Apart from her paid work with NAFSN, Joy made a personal journey of food systems work throughout her undergraduate years in Ithaca. She:
* worked at Anabel's Grocery, first as a volunteer member of the procurement team and then as a work-study financial analyst of the business;
* worked for GreenStar Coop as a maintenance specialist;
* participated as a research intern for the COVID-19 Tompkins County Food Task Force;
* delivered groceries for InstaCart as a gig worker;
* volunteered with Cornell Dining, the Food Bank of the Southern Tier, and the local Salvation Army.
During the 2021-22 winter break, Joy received a Cornell Traditions Fellowship Experience grant to go on the road for three weeks to meet and better understand some of the grassroots-level food systems work being done in the U.S. Southeast and to recruit featured job creators for her webinar series. Her journey was barebones and community-based, and she made every effort to meet people working in horticulture, urban farming, food access, food recovery, food distribution, food and healthcare, modern homesteading, and local culinary businesses. From that jouney, she helped further create connections and opportunities for emerging professionals in food systems development, always with a focus on inclusion.
Joy has an entrepreneur's spirit and a work ethic to match. NAFSN has greatly benefits from both.
Author: Kim Hines | April 1, 2022