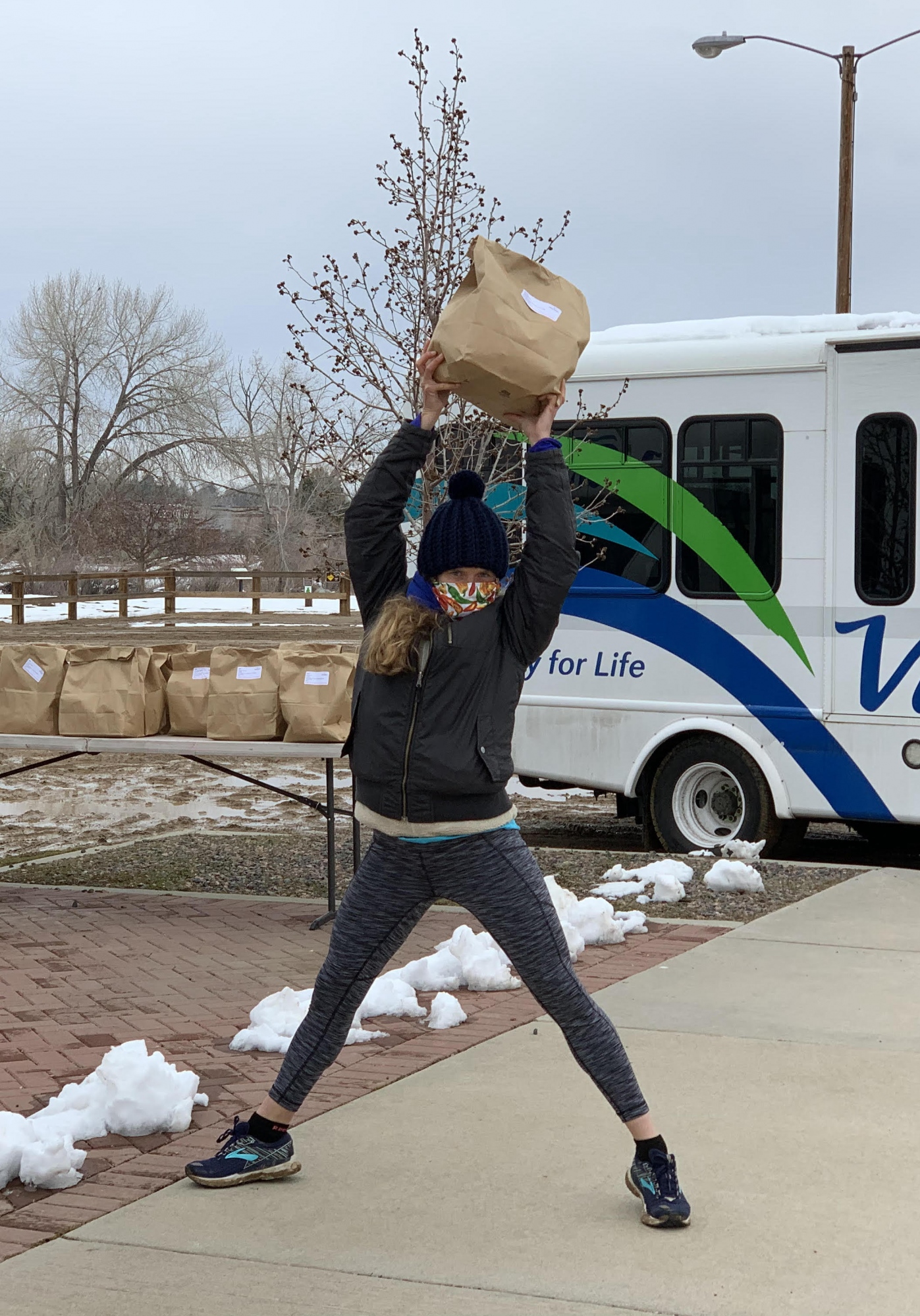 "How can we show that investments in our local farming community will be just that?" she asks.

"Investments."

Mickey Davis
- Featured Food Systems Practitioner
For many who have worked at the uphill crossroads of local agriculture and food access, Mickey Davis' situation is so rare that her words ring almost surreal. In Boulder, CO, she says, "the city and county (are) throwing weight behind my role, and building more positions of its kind."
A sugar-sweetened beverage tax, leveraged by the public health department into a "Health Equity Fund," has paved the path for her position as the Local Food Access Specialist for Boulder County Farmers Markets (BCFM.) Mickey's entire salary, some administrative support, marketing, and educational materials, "are supported by the city of Boulder, which is incredible. Boulder County Farmers Markets also donates a significant amount of in-kind support as well."
Mickey says, "We're all imagining this unknown world of resilient, accessible, equitable local food systems." and suggests that "the city of Boulder is closer to realizing that than others."
"Charitable food access work is nice, but I love the pulse of business," she says. "Let's draw more energy toward food access and make more money for our sustainable farmers at the same time. Double Up Food Bucks and WIC Farmers Market programs accomplish two goals at once."
While Mickey feels fortunate to now hold a food systems position with the capacity to effect measurable change, this job didn't fall in her lap. The journey has been complex; the self discovery has been humbling.
Mickey started her interest in health and diet young, with a research paper in 7th grade on the topic of childhood obesity. "I didn't know a thing about it," she admits. Having grown up in Marin County, CA, with the benefit of privilege, "I wasn't aware of an obesity pandemic it kind of blew my mind." In high school, she started a Health Club to promote "healthy eating, sustainable food advocacy, that kind of thing," and by the time she entered the University of California-Berkeley, she felt she'd found her calling in nutritional biochemistry.
But there was always this tug in another direction, she says, because she was also drawn to agriculture. "Anytime I tried to focus my scope [to just nutrition], it always felt too narrow."
She explains, "For all four years in college, I ran this little produce stand on campus where we would go to the Berkeley farmers markets on Sundays with a stack of money from our club and buy up the unsold stuff at a discount, like $500 worth of food, put it all on bike trailers, and bring it back to campus to set up and sell at cost the next day. Looking back, I was like, 'oh my God, that was such an operation,'" she laughs. Mickey's time at Berkeley also coincided with a movement to start a student food co-op, with which she was involved in its nascent stages.
Mickey was also a college athlete: a distance runner on the track team. Performance nutrition became both a fascination and a wake-up call. "It's really hard to eat well when you're an unemployed college student and you need 3000-4000 calories a day."
Leaving college was tough. "It was challenging to graduate with all these hopes and dreams and experiences [to be] met with no opportunities except unpaid internships." She concedes that she'd been "focused on the altruism of the work and the integrity of the work and I was a bit of an idealist. I was so passionate [about making the world a better place through food] that I didn't have an understanding of what it takes to foot the bill for these kinds of operations."
So when a small, independent grocery store in Brooklyn, NY, offered her a job, she packed her bags and moved across the country for a $15/hour position as a produce manager.
"I was thrilled to accept that position," she remembers. At Greene Grape Provisions, they'd already established a whole-animal butchery, craft cheeses, and small-batch local products, "but the produce department didn't carry the same values as the rest of the store." They hadn't made efforts to source produce locally or regionally.
"I was going to transform that grocery store," she laughs.
Indeed, by the time Mickey left that job, three years later, she'd expanded the store's produce procurement from only two national distributors (one organic, one conventional) to more than 300 regional farms. "I worked with a lot of food hubs and aggregators, but also with a lot of individual farmers ... the urban farmers and rooftop farmers."
And while Mickey transformed the store, the store transformed Mickey. She learned about distribution efficiency, wholesale negotiations, and collaborating with chefs to access "the good stuff." She learned about food cultures she hadn't known existed. She learned to be a manager, and worked alongside coworkers from throughout the world, some of them new immigrants, others recently released from prison. "We developed some close bonds in that produce department," she remembers fondly.
Eventually Mickey left New York for graduate school at the University of North Carolina-Chapel Hill. She earned a master's degree in public health, and studied to become a registered dietitian. The journey included three unpaid internships. In addition to its financial burden, the experience was a jolt. "Instead of thinking about how to get the fanciest herbs for my customers, here I was being asked how to just get people to eat vegetables."
It also forced her to think about what it means to be a dietitian in today's world. "The fact that you can get all this education and still not be considered the expert in the room on food and nutrition is demoralizing."
Mickey says she wasn't interested in hospital work; preventative nutrition made more sense to her. Nor was she wasn't interested in weight loss consulting. And, she says, she wasn't alone. "I heard colleagues say all the time, 'I want to do work where I help people eat better and lead them to fruits and vegetables grown in their communities, but where can I do that?'"
With a graduate degree in hand and the letters RD officially following her name, Mickey took a job as chef educator at the Edible Schoolyard in Greensboro, NC. Community education felt like a good match. It was creative and she was passionate about tackling dispararites with food access. But her salary was nearly identical to what she'd been making as a produce manager three years earlier, and now she was saddled with student debt that her salary couldn't cover.
After a year, she packed up her belongings, bid farewell to North Carolina, sent out some resumes, and decided to move back West, closer to home. The day after she arrived in the Rocky Mountain state, in December 2019, she received an offer for her current position in Boulder, CO.
Mickey has big plans for Boulder County. She intends to expand all her current programs at area farmers markets -- including the WIC Farmers Market Program, SNAP & Double Up Food Bucks, and Fruit & Veg Boulder -- to maximum capacity. She also oversees the Farm to Early Care Education program connecting farmers with local childcare centers and preschools for use in meals, snacks, taste tests, and art projects. Her current evaluation tools show evidence of progress in the short term, but Mickey is interested in the long term: preventing diet-related chronic disease and increasing the economic stability of farmers at the same time.
More specifically, she wants to help develop sustainable business models that forge the economic connection between local agriculture, food access, and community vitality.
"How can we show that investments in our local farming community will be just that?" she asks. "Investments."
"How can we show that our down payments today will grow to be much more valuable than we could have imagined?"

Author: Kim Hines | May 10, 2021