Zack wyatt
- Featured Food Systems Innovator
Zack Wyatt, founding president and CEO of Carolina Farm Trust, was a first-hand witness to the disappearance of city-surrounding agriculture in his hometown. It left a lasting impression.
"People don't want to know" about the compounding problems of our conventional food systems, he says. "But once you know, you can't unknow."
As a child, Zack and his family lived on 300 acres in Northern Virginia, right outside Washington, D.C. His parents were caretaker farmers on the property for 15 years. "We never owned that land," he explains. "We just kept it, we took care of it" for family consumption.
"All I remember is that it was a ton of work." Pigs, chickens, horses, and big, big gardens. "It was my normal."
This was Loudoun County, VA, a landscape historically known for agriculture up through the 1960s when Dulles International Airport was built on the region's southeastern side.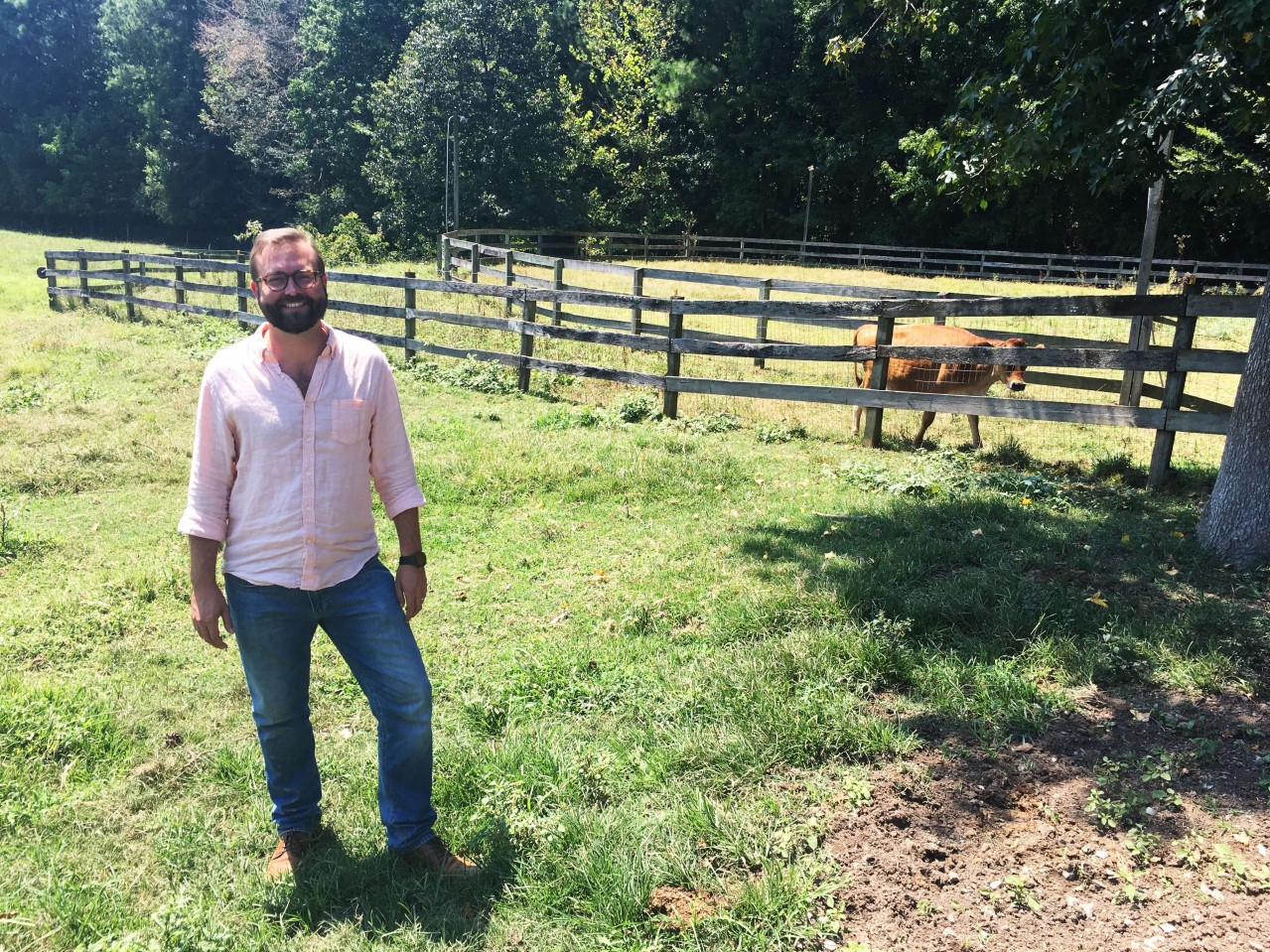 Today, Loudoun ranks as the state's third-most populous county.

"The agriculture just disappeared," Zack says of his childhood home, seemingly "overnight."

So, when Zack went to Coastal Carolina University to attend college, then moved to the Charlotte, NC, area in 2003 to find employment in IT, get married, and begin a family, he was quick to recognize "the exact same thing" happening there, in the agricultural spaces that surrounded Charlotte, two decades later.

So, when Zack went to Coastal Carolina University to attend college, then moved to the Charlotte, NC, area in 2003 to find employment in IT, get married, and begin a family, he was quick to recognize "the exact same thing" happening there, in the agricultural space that surrounded Charlotte, two decades later.
More than a little alarmed, Zack established the Carolina Farm Trust (CFT) in 2015. "I was surprised that the name and URL were even available. It should have already been a thing."
Zack is a systems thinker/activist/entrepreneur with a booming voice and energy to match. His pressing concerns took us to discussions of many urgent topics: aging farmers, climate change, encroaching factory farms (including foreign-owned Smithfield Foods, headquartered in NC), and the fact that racism and inequity "have been rooted in our food systems since time began."
But one could argue that the real strength of Zack's work is in its details, specifically details that require one to slow down, to empathize, to hear people out.
"I started by just listening to farmers," he says. "Listening for what was needed."
Too often, Zack explains, people who want to farm face barriers that they alone can't overcome. These are community issues, he explains, not failings of the would-be farmers themselves.
"Let's say a start-up farmer needs 10 things," and she's been able to get 9 of those 10 things in place, but that 10th thing is holding her back. "What is the 10th thing?" Zack wants to know. That's where "the community needs to step in. At that last hurdle."
These 10th-things come in many shapes and sizes, he explains. In one case it was a greenhouse. In another, it was a post-harvest cooler. When some farmers expressed a need for knowledgable farm workers, CFT initiated a new partnership that will soon launch a farmer apprentice training program.
Access to arable land in the Charlotte Metro area is always a matter of complexity, he says, given that the area has already lost more than 100,000 acres of farmland to development over the last several decades. CFT brokers these unusual land-lease opportunities, mediating between farmers and landowners, always with conservation in mind. Zack explains that the ideals of such arrangements can be muddied by the realities of human relations, and that most of them require year-to-year renegotiating between landowners and farmers. When things get tense, CFT will assist conciliation.
A network of urban farms has emerged from the arrangements CFT has fostered. This allows the group to access resources cooperatively. Zack notes that CFT also acts as an umbrella insurer for urban farmers, many of whom would otherwise go without coverage. "We have quite a bit of insurance. It allows us to take the insurance burden off of farmers who partner together for land access."
Supporting these farms to manifest "intergenerational, multicultural reconnectivity," "real food security," and "agricultural community spaces" is a critical, tangible goal for Zack. To illustrate, he describes collaborations with the Urban Farm of Aldersgate (6.7 acres in a retirement community in East Charlotte) and the Mill Grove Farm Co-op (11 acres in Union County, NC). Both projects forge community by ensuring that affordable, culturally diverse, and biodiverse nutrition is central to their missions.
Zack turns his attention to economics and his frustration with the severe capacity challenges that local and regional food systems suffer throughout the United States. "We can't continue with nothing more than funding bursts," he insists. "We have to be very profit-minded. 100%."
Zack's already got his entrepreneurial eye on the development of Charlotte Metro's food processing and distribution components. "That's where the jobs are," he explains. Creating power-shifting economic opportunities in the region will rebalance the region's relationship with its land and the people who grow food, he notes.
"You have to go big," Zack insists. "It is irresponsible to educate people to get their food locally from a system that really doesn't exist." We need to understand, "street-to-street, what residents need to be able to participate in the local food economy."
"We have outsourced our responsibility on the one thing that matters more than anything else": food.
As we wrap up our interview, a child's voice is audible in the background on Zack's end of the phone. It is a reminder that he and his wife, Abby Wyatt (food security coordinator for Mecklenburg County Public Health and co-chair of NAFSN) are raising five school-age kids as they both work full-time and wade deeply into food systems activism.
Zack laughs: "It has forced us to be the parents [we] needed to be. You can't be lazy because it would be completely dysfunctional."
What could be truer of food systems work?
Author: Kim Hines | May 10, 2021